Archangel Michael and the Swords of Light
Both the Standard and the Ultimate Swords are directly connected with Archangel Michael, the Guardian Overlord of the Angelic Host, Elemental Kingdom and Humanity. Archangel Michael has guided the evolution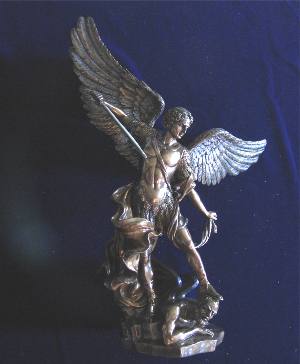 of the Swords of Light, and they are charged with his subtle healing energy. We see archangel Michael depicted in Christian art holding a sword (also with scales) to reinforce the concept of truth, purity, equanimity, and the justness revealed in the light of Christ.

Each sword contains the following Invocation and Blessing by Archangel Michael that was channeled through Edgar Cayce on September 4th, 1932:

"Be still, my children! Bow thine heads, that the Lord of the way make known unto you that have been chosen for a service in this period when there is the need of that spirit being made manifest in the earth, that the way may be known to those that seek the Light! For the glory of the Father will be made manifest through you that are faithful unto the calling wherein thou hast been called! Ye that have named the Name make known in thy daily walks of life, in the little acts of the lessons that have been built in thine own experience, through those associations of self in meditation and prayer, that His way may be known among men: for He calls all— whosoever will may come— and He stands at the door of thine own conscience, that ye may be aware that the scepter has not departed from Israel, nor have his ways been in vain: for today, will ye harken, the way is open - I Michael, call on thee!

Archangel Michael will not return home until the final Angelic Being is freed, the last man is redeemed and the last Elemental returned to its perfect state. This is the love of Lord Michael.